Ho terminato venerdì il secondo della serie Coffee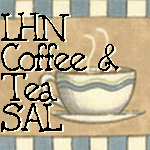 & Tea di
Little House Needleworks
, il delizioso Frappuccino.
Frappuccino, by LHN,
for the SAL on my website

Contemporaneamente, mio padre ha terminato tre nuovi thread keepers (trovate gli altri due nell'
album Flickr
). Vi mostro quello originale, il gingerbread. Non è delizioso?
Gingerbread thread keeper
all in wood, handmade by my father
(other two finished into the Flickr album)
model: ©Dolci Fusa, ©GD

In realtà ci sarebbero altre tre cosette che ho terminato, i famosi PIF (finalmente!), ma poiché non l'hanno ancora ricevuto tutte le iscritte, attenderanno per la pubblicazione. A domani per le news.