Graphic: ©Anita Jeram e Sam McBratney
Ancora convalescente, con una fastidiosa tosse che non ne vuole sapere di andarsene, questi giorni frenetici sono stati rallegrati da un paio di regali di compleanno posticipati e da un arrivo alquanto atteso. Ma andiamo con ordine.
Vi mostro il regalo di mio fratello: un sempre gradito ornamento Thun che sfoggerò al prossimo Natale insieme agli altri.
Late birthday gift from my brother:
a Thun Christmas tree ornament
Per accompagnare la nuova zuccheriera,
regalo di San Valentino
del moroso, ho scovato queste deliziose tazzine. Il micio non poteva mancare, no?
Two new feline coffee cups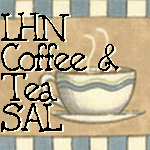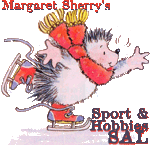 Ho passato gli ultimi due giorni ad aggiornare e ristrutturare il
mio sito
.
Tra le altre cose, ho aperto due nuovi SAL: l'LHN Coffee & Tea thread packs SAL ed il Margaret Sherry's Sport & Hobbies SAL.
Per tutte le informazioni e le adesioni, cliccate sul logo relativo.
Two new SALs on my website: the LHN Coffee & Tea thread packs SAL and the Margaret Sherry's Sport & Hobbies SAL. Click on the logos for infos and joining.
Mi è arrivato il consueto invio mensile del Monthly bits da
SBB
, con i quattro filati di seta
Dinky Dyes
. Comincio ad averne una discreta collezione; devo dire che a lavorarci sono un amore, luminosi e lisci.
Infine, l'arrivo tanto atteso anticipato all'inizio: un corposo pacchetto da
Whimsicals Quilts
. Mi sono letteralmente innamorata di questa designer: raffinata, primitive, eclettica. Vedrete presto qualcosa tratto da questi booklet.
Come sempre, vi saluto con un po' di foto miciose: in rapida successione: Ronny, Toby, Lallabel e Milly. Trovate altre divertenti foto nel mio
album online
.