Oggi mi sono arrivati i libri presi nell'ultimo ordine presso
Libreria Universitaria
. Dopo due mesi di full immersion in Harry Potter, sono talmente in astinenza che ne ho presi altri due extra... comunque, ho letto delle buone recensioni. Spero invece che il libro di Faletti non mi deluda, come l'ultimo...
Poi, posso infine mostrarvi il
quaker exchange
che ho realizzato per
Jennifer
, arrivato sano e salvo. Ho optato per una finitura a quilting, realizzando un accessorio per gli articoli da ricamo.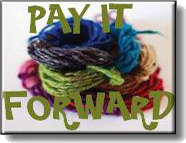 Infine, vorrei chiudere la questione
PIF
.
L'avevo inizialmente circoscritto ai soli lettori internazionali, essendomi iscritta anche al iscritta al
RAK di Jelly
, ma a questo punto riaprirò il RAK quando riceverò il mio.
Ecco quindi i nomi delle persone che riceveranno il mio PIF:
-
Mary
,
-
Susan
,
-
Maria
.
Sostanzialmente, vi siete aggiudicate un regalino realizzato dalla sottoscritta, prendendovi a vostra volta l'impegno di farlo nel vostro blog. Le tempistiche prevedono solitamente sei mesi di tempo per realizzare tre oggetti simili da spedire alle proprie iscritte.
Mandatemi il vostro indirizzo fisico, e abbiate pazienza :)
I
t's the Pay It Forward Exchange. It's based of the
concept
of the movie "
Pay it Forward
" where acts or deeds of kindness are done without expecting something in return, just passing it on, with hope that the recipients of the acts of kindness are passed on.
The first three people who have left a comment to previous post on the blog requesting to join this PIF exchange, were:
- Mary,
- Susan,
- Maria.
Send me your snail addresses.

I promise the gift will send within six months! What YOU have to do in return, then, is pay it forward by making the same promise on your blog.