Finalmente! Sì, è proprio il caso di dirlo. Dopo diciotto mesi di lavoro intermittente in cui l'ho abbandonato e ripreso diverse volte, mi sono concentrata su questo ricamo, spronata da
Beatrice
che l'ha terminato nell'ambito dell'
UFO project
; così, ho infine terminato anch'io la mia Chrsitmas Elf Fairy. Applicare le perline è stato davvero antipatico... Ci comprerò una cornice sul bordeux e l'appenderò.
The Christmas Elf Fairy, by
Mirabilia
stitched on 32ct Belfast linen opalescent Treasure Trove by
Silkweaver
Mi è arrivato l'ordine fatto su Amazon la settimana scorsa. Ho selezionato questi libri attentamente, leggendo recensioni e scartandone altri che sembravano validi. Devo dire che sono molto soddisfatta, e i libri sono all'altezza delle mie aspettative. Potete vedere altre foto nel mio
album online
.
Quilted Bags and Totes (ISBN: 0896893863),
Amy Butler's Little Stitches for Little Ones (ISBN: 0811861287)
and 1000 Great Quilting Stitch Patterns (ISBN: 1843403471),
bought at
Amazon.co.uk
Quilted Bags and Totes, inside

Amy Butler's Little Stitches for Little Ones, inside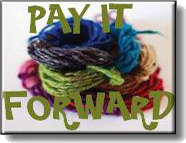 Nota di servizio per le mie tre iscritte al
PIF
:
Mary
,
Susan
e
Maria
.
Non mi sono dimenticata di voi. Ho avuto dei mesi incasinati, ma conto di realizzare e spedire il vostro PIF per Natale, rispettando il termine di sei mesi. Ho pensato a delle creazioni originali, devo solo trovare il tempo di farle
Note for my
PIF
subscribers: I haven't forgotten my promise. I'm planning to realize and send it before Christmas.
Come sempre, vi saluto con qualche foto nuova delle mie piccole pesti, ancora in cerca di un padrone affettuoso (per contattarmi, scrivete un'email a
dolcifusa@dolcifusa.it
).
Toby