Eccolo qua: dopo l'ennesima traversia a causa del corriere di SDA (
), è finalmente giunto a destinazione lo
SWAP
"Esprimi un desiderio"
che mi ha inviato
Elena
.
Guardate quanto bendidio! È tutto stupendo...
... e il biscornu è perfetto. Grazie mille, cara!

SWAP arrived by Elena
organized by Cetty
Intanto, sono arrivati un paio dei miei pacchettini, quello destinato a
Elena
...
... e quello a
Monica
.
Christmas presents sent to
Elena
(first) and
Monica
(second)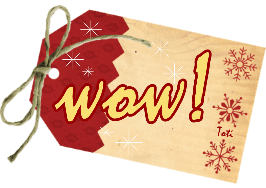 Ho appena vinto il
giveaway
che
Hummelan
! aveva lanciato per il duecentesimo post! Che fortuna
I've just won the
giveaway
launched by
Hummelan
for her 200th post! I'm lucky!
Vi saluto con il mio albero di Natale, fatto ieri con l'aiuto di mio padre che è venuto a trovarmi per le festività natalizie.